Rosalind finally arrived in Nepal after an unexpected layover for 2 days in China, Shanghai and Chengdu, capital of the beloved' pandas. It was an extra long journey to arrive in Kathmandu due to a delayed flight and missed connection.
The special Azetec-ian corn did make it with me for those of you who heard me talk about it.  I was concerned about agricultural agenda to bring it in but was met with no difficulties.  The corn is rainbow colors, quite beautiful, it is not good for popping, but makes great, nutritional mush which is a common food in Nepal. Can't wait to see crops begun while I am here, though of course the harvest will be unmet by my eyes.
All is well though my head is fuzzy from the change of time zones… I am in the future, 13 hours and 15 minutes ahead of most of you on Pacific Time.
Enjoy this article printed in the StuNews on December 7, 2018, just before I left for Nepal.
Rosalind Russell of R Star Foundation delivers new specialized crop of corn to Nepal villagers today
Rosalind Russell, R Star Foundation CEO/Founder, departed today for an extended trip to Nepal. Before she left, she met with volunteer Robin Pierson at Adolfo's for a last Mexican meal for a while, as Rosalind won't be back until the end of January.
Robin gifted R Star with "corn" of the Aztec's, a hearty, healthy crop of colorful corn, which, of course, is not GMO, says Rosalind. This is Robin's first and very plentiful harvest, which she grew on her Wyoming farm for Rosalind to take to the Nepal, and because of Robin, R Star is delighted to have a new specialized crop to offer selected villagers.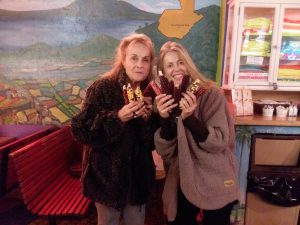 Robin has been to Nepal a few times as well as to the R Star Top of the World – Nepal elementary school to teach classes. She has also volunteered her time and energy on many occasions in several different ways for the sake of the Nepalese people R Star assists.
While in Nepal, Rosalind will also be overseeing drilling matters and "goats", greenhouses, and living conditions as she learns the needs of those she works with in her 51 villages with a population that totals 44,000 people.
R Star TOW school in Wojethar, attended by pre-school students to the sixth grade; 55 students are enrolled from various villages
R Star's mission statement is "Women Helping Women & Children in Nepal…therefore the world." R Star Foundation serves and educates the isolated and disempowered women and children of Nepal. The nonprofit connects resources to the neediest people in one of the most remote areas on earth and helps to bring about peace