Stu News May 15, 2018
Story by SAMANTHA WASHER (original article posted here)
Photos by Mary Hurlbut
Rosalind Russell is surprisingly glamorous for a woman known as "The Goat Lady." And while the nickname is accurate (Russell estimates 15,000 goats have been dispersed throughout villages in Nepal as a result of her work), it doesn't tell the whole story. For that we'd have to attach additional words like "school" and "self-sustaining" and "female empowerment" to her nickname. For Russell has not only boosted needy villagers' earning power with goats, she has changed their lives.
Finding Rabindra in Nepal
Back in 1988 Russell was traveling the world, visiting places she found of "spiritual interest." She was in India when she met a friend who convinced her to see Nepal. "It was glorious," she remembers. But the grinding poverty that she was grateful to have left behind in India was certainly present in Nepal.
While exploring Nepal, Russell met an 11-year-old boy named Rabindra. He stood out from all the other street urchins she encountered. "He had the best English," says Russell. Rabindra convinced his new friend to let him show her around. "We just really liked each other," explains Russell.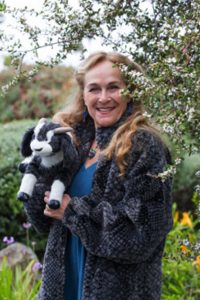 Rosalind Russell, aka The Goat Lady, and Founder and Director of R Star Foundation
Eventually, he invited her to meet his family. Russell first met the boy's grandmother, who was resting at their Kathmandu home following cataract surgery. She recalls being dismayed to see the poverty in which they lived. Her hosts generously offered her some popcorn to eat and, while she wasn't inclined to accept it, she says, "I could not say no." This would not be the last time Russell found it hard to say "no" to Rabindra.
Making an empty promise that wasn't
Over the two weeks they spent together, Russell and Rabindra formed quite a friendship. "I had really bonded with this kid," she says. As she prepared to go back home to Laguna, Russell says she promised Rabindra she would return someday. But, she admits, it was a false promise.
She had seen enough suffering. Whatever her plans were going forward they did not include a return visit to Nepal. "I was never returning to that country," she says. Russell flew home to her husband ready for her next adventure.
Coming home to a new, unforeseen adventure
Once home there was definitely a new adventure waiting for her. Unfortunately, it wasn't one she was prepared for. Her husband asked her for a divorce. So, Russell did what people frequently do in that kind of situation, she reassessed. "My whole life had changed," she says.
She contemplated going back to medical school (she had previously dropped out halfway through) but realized she didn't really like it. She thought about becoming a vet because she loves animals. However, she couldn't shake the voice in her head that kept repeating "ministry." She eventually listened to that voice and became ordained as a minister in 1992. "I was one of the first straight ministers doing gay marriages," she says with pride.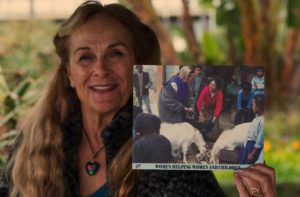 Rosalind Russell holding a photo of herself with some of the Nepalese villagers her organization works with
Her ministry work kept her very busy as she performed both weddings and funerals. She even started a prison ministry that is now in its 37th year. Her longest running congregant has been with her for 27 years, and only one of the men she ministered to has returned to prison after his release.
Finally, keeping her word – and bringing goats
Throughout all of this, there was still Rabindra. Even though it had been many years since Rabindra had seen his American "mom," he never forgot Russell's promise to return. (Rabindra started calling Russell "mom" with his own mother's blessing. He explained to Russell that his mother said, "Yes, sure, she's your mom too. She would die for you.") Rabindra was insistent that Russell keep her promise and return to see him. "Mom, when are you coming over?" he would ask repeatedly. Russell finally acquiesced.
Since she was going to return to Nepal, Russell decided she wanted to arrive with gifts for Rabindra and his family. "I decided to bring goats," she says after remembering how Rabindra spoke of their importance. Plus, "They're in our backyard (grazing the hills in Laguna), and I'm a Capricorn and they're kind of goat-like, so that's how the whole goat thing started," explains Russell, as if everyone would, of course, come to the same conclusion.
Not everyone thought goats were a great idea
Rabindra was not impressed with his "mom's" plan. "That's stupid," Russell recalls him opining about the goats. Nevertheless, she remained undeterred and 200 goats were delivered to two villages upon her return to Nepal.
Two goats each were given to the women in the villages. They were ecstatic, but there were strings attached. In order to receive this gift, the villagers had to promise they would give away a goat. "It's a pay it forward program," explains Russell. The gift was accompanied by a micro-financing program. Another caveat: everyone had to work together. In the Hindu caste society this is no small order. And yet, though she was met with some resistance at first regarding both caveats, Russell says, "This has changed their hearts."
First goats, then a school
After such a successful return to a place she really hadn't wanted to ever see again, one would hardly fault Russell if that were the end of her charitable acts. After all, in her one visit she had done more for total strangers than most people ever think about doing.
However, the goats were not going to be the end of it for Russell. One of her friends, upon hearing about the goats and the largely illiterate villagers who received them, suggested that the village needed a school. "I should have never listened to her!" laughs Russell. But she did. And now a TOWN-N school, catering to pre-school up to fifth grade, exists as a result of her work. Girls attend free of charge, and the children are taught in English, and are exposed to the outside world with Kindles and books. "The kids are testing in the top 10 percent. It's outrageous," exclaims Russell proudly.
A personal loss followed by a global one
And how nice if the story ended there. Unfortunately, two catastrophic events took place — one global, the other personal – that forced Russell to reassess and adapt again. The first was personal. In 2008 Russell's home of 29 years burned down. She fought the insurance company for years only to come away with virtually nothing. Now she lives in a one-room pool house. And yet she and her R Star Foundation never wavered from her Nepalese mission. She speaks of her loss as just that, something she lost. As one who has seen true suffering, third world suffering, she has decided that this event that caused her financial devastation was unfortunate, but not tragic.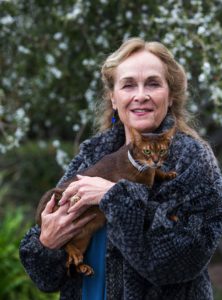 In her spare time, Russell trained her Abyssinian cat, above, to walk on a leash
The second event she definitely classifies as tragic. In 2015 Nepal was hit with an earthquake that killed an estimated 10,000 people and injured well over 22,000 people. The country has yet to recover. And this has changed R Star's mission, but just a little. Russell says that while the earthquake struck on April 24, by April 28, Rabindra was leading the charge to deliver supplies to the villages. By June 2, the school was reopened. However, much of the infrastructure has not been rebuilt and this has handcuffed R Star and what it can do.
Working with limitations
Rather than acquiring more goats, Russell says the group has turned to a professional goat judge, Dan Laney. He is helping the villagers care for the goats they have. "He teaches them how to do hoofing, and things like that," says Russell. The group has built 30 greenhouses as well as organized a coat drive to help keep the villagers warm since their houses, rebuilt since the quake, are subpar for the harsh environment.
An entire separate column could be written specifying all the things R Star has done – and continues to do – for the people in Nepal. Every dollar they raise goes to the mission. The group is adaptable, practical and, looking for "outstanding Board members."
And if I really wanted to keep it going, I could write about all the other community organizations Russell belongs to (trust me, it's a lot). But, perhaps, that will be another story. This story is about a woman who has turned personal setbacks into a truly meaningful life's work. Russell, herself, is quick to give credit to others, but it's clear she is the driving force. So let's give credit where credit is due.
Despite telling me unabashedly that, "Poverty isn't my pleasure," Russell has unflinchingly continued to battle against it, even in the face of great personal loss. "We've gotten very good at what we do," she says. "Now, I even like my moniker, "The Goat Lady." And that's fortunate, because there are a lot of people in Nepal who are hoping the woman it belongs to, is around for a long time.